NEW! NOW GROW YOUR OWN VEGETABLES IN SALISBURY'S COMMUNITY GARDEN!
Spearheaded by Board Member Peggy O'Brien, designed by Mac Gordon and supported by many organizations and volunteers, including horticulturalist Gaye Parise and the Garden Committee, the SFS Community Garden has proven to be a great way to bring community members together in a productive and enjoyable effort, growing vegetables and flowers. Contributions of work, generous donations of seeds, seedlings, soil, and organic fertilizers have resulted in a 100% subscription for the present 38 plots (with the possibility of creating more). The garden is located in front of the SFS offices at 30A Salmon Kill Road, Salisbury, CT 06068.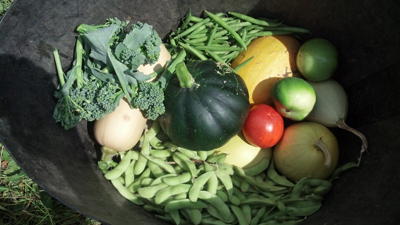 Enthusiastic families and gardeners have made the project "fly" from the very beginning. Gardeners have shared in upkeep, ideas, and helpful tips about what to plant and how to make our garden grow!
One plot is tended by a volunteer specifically for The Corner Food Pantry (formerly Owl's Kitchen). It is hoped that an abundant crop of vegetables will be gathered in time for a Harvest Dinner for the Salisbury community at the end of the growing season.