SOLD OUT!!!
CELEBRATING SALISBURY'S OWN:
PHOTOGRAPHER ANNE DAY
EXHIBIT, COCKTAILS, HORS D'OEUVRES: $35 per person September 23, 2017 · 5:30pm
The Tremaine Gallery · Salisbury School
251 Canaan Rd. · Salisbury, CT 06068
Salisbury resident Anne Day has had an impressive career as a photojournalist, portrait and architectural photographer. Anne has photographed some of the most important events in recent history including Nelson Mandela's return home after his long incarceration, six Presidential Inaugurations, Hillary Clinton delivering her nomination acceptance speech, the 2017 Women's March in Washington and many more. She won the Arthur Ross Award in 2016 for her architectural photography as principal photographer for five books on classical architecture.
A post-exhibit dinner will be held at a private home
in Salisbury. Tickets are $250 a person.
If interested, please contact
Pat Best at 860-435-2888, ext 101
SOLD OUT!!!
---
FUNDRAISING SUPPORTS THE WORK OF SALISBURY FAMILY SERVICES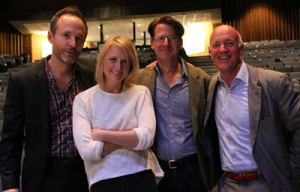 While the work of SFS is supported in part by local foundations and the Town of Salisbury, it is always necessary to raise funds. A fundraising letter is mailed annually to our supporters, and every other year SFS presents a vital fundraising gala. As part of "Celebrating Salisbury's Own," the galas have highlighted the work of artists, writers and performers who call Salisbury home.
The first of these events, "The Art of Robert Osborn" (2003), was followed in 2005 by an exhibit of the paintings of Thomas P. Blagden. In 2007, Ann Scoville's steel sculptures were shown in her home at Hill House. In 2009, SFS presented "Creature Comforts: The Oddly Reassuring Art of Sandra Boynton." The 2011 gala honored prize-winning actress Laura Linney, who conducted a Master Class with local student actors from HVHS, as well as the Hotchkiss and Salisbury Schools. In the most recent gala, in 2013, readings "Celebrating Small Town Life" featured actors and authors Ann Arensberg, Mamie Gummer, Edward Herrmann, John Benjamin Hickey, John Burnham Schwartz, and original music by The Joint Chiefs to a sold-out audience at The Hotchkiss School. Dinners hosted by sponsors followed each event. Please consider a tax-deductible contribution by using our secure online service, here at right.